Aloha, Lance Owens (RS) here with LUVA Real Estate, bringing you the latest in real estate news. 
     Before I jump into the mainland numbers, I wanted to bring you a little local insight.
Short story, you never know what's at the other end of that phone call when you answer it.
One month its buyers wanting condos, next month its land, next week its houses..... tomorrow it's a new listing!
  This month it's Luxury/Premium home "buyers", (2 different couples) looking at $800,000 to $1,500,000.
 In the past 10 days showing these couples, I have shown 20+ Premium/Luxury homes, and of those 20+, 2 have gone into escrow before we could get in,  and a 3rd had multiple offers on "day one" of being released!
Here are few numbers to take in 
April 2018 – total of 46 homes sold in North Kona (my district) 
April 2019 – total of 47 homes sold, North Kona 
So with 2 homes going into escrow and a 3rd getting multiple offers on day 2 on the market (all over $1,000,000) I had to run some numbers, 
In the last 10 days, 7 luxury/premium homes have gone into escrow, remember we average 47 homes a month sold, with the median price being $649,000
Click here to view the 7 that went into escrow Luxury/Premium Homes in Escrow   (with links) 
With that said, below is your infograph on the national trends!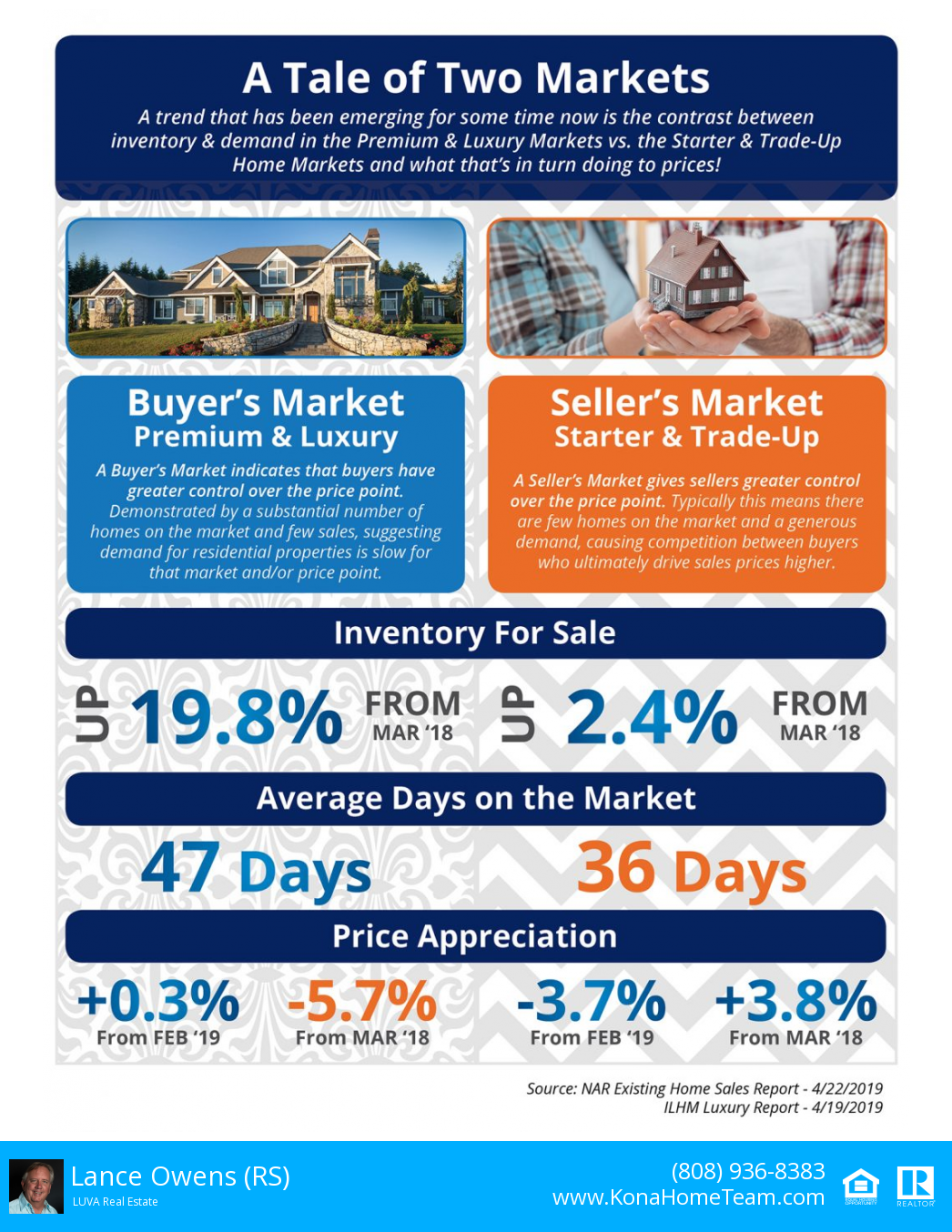 Click on any of these (above) to follow me on your favorite Social Media site:  
Aloha, and have a great day 
Lance Owens (RS)
(808) 936-8383
LUVA Real Estate 
75-240 Nani Kailua Dr #8 , Kailua Kona, HI. 96740 (Pines Plaza